The Nether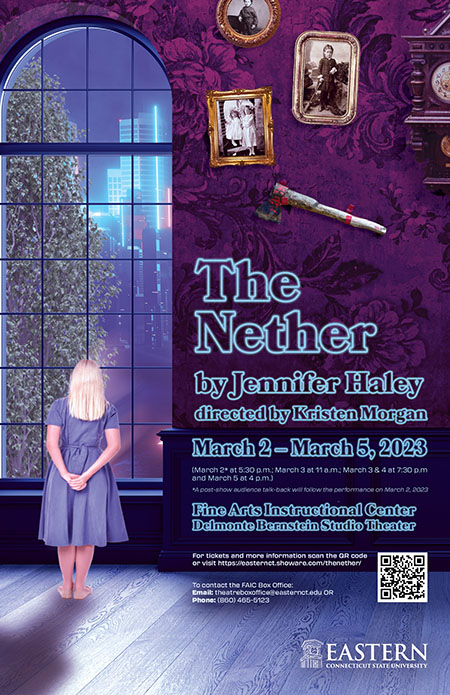 Due to circumstances beyond our control, we have made the difficult decision to cancel the Tuesday, February 28 at 7:30 P.M. and Wednesday, March 1 at 7:30 P.M. performances of The Nether. The Nether will now open for it's first performance on Thursday, March 2 at 5:30 P.M. All other shows will remain unaffected. We apologize for any inconvenience this may cause. The Fine Arts Box Office will be in contact shortly with all ticket purchasers regarding their tickets and options for rescheduling or refunds.

Eastern Students reserve your tickets here: https://forms.gle/ozDMfqXRECJE2TwY7
The Theatre & Performance Media Program & Drama Society at Eastern Connecticut State University is proud to present The Nether, written by Jennifer Haley and directed by Kristen Morgan.
The Nether is a virtual wonderland that provides total sensory immersion. Just log in, choose an identity, and indulge your every desire. But when a young detective uncovers a disturbing brand of entertainment, she triggers an interrogation into the darkest corners of the imagination. Winner of the 2012 Susan Smith Blackburn Prize, The Nether is both a serpentine crime drama and haunting sci-fi thriller that explores the consequences of living out our private dreams.
Please be aware that there are discussions about pedophilia and other violence in this performance. There is a brief scene in which physical violence is inflicted upon a 'virtual' character. This play is recommended for mature teenagers and adult audiences.
The Nether will be presented in the Fine Arts Instructional Center's Delmonte Bernstein Studio Theater from March 2 through March 5, 2023; March 2 at 5:30 p.m., March 3 at 11:00 a.m., March 3 & 4 at 7:30 p.m.,and March 5 at 4:00 p.m. A post-show audience talk-back will follow the performance on March 2, 2023.
Tickets are free for Eastern students; $5 for other students and groups of 10 or more; $10 for senior citizens; $12 for Eastern faculty, staff, alumni and $20 for the general public. Please be aware that ticket fees are not including in the ticket price. A $1.25 ticket fee will be applied to each ticket in your basket.
Eastern Students reserve your tickets here: https://forms.gle/ozDMfqXRECJE2TwY7