The Greenwood Project: Against Erasure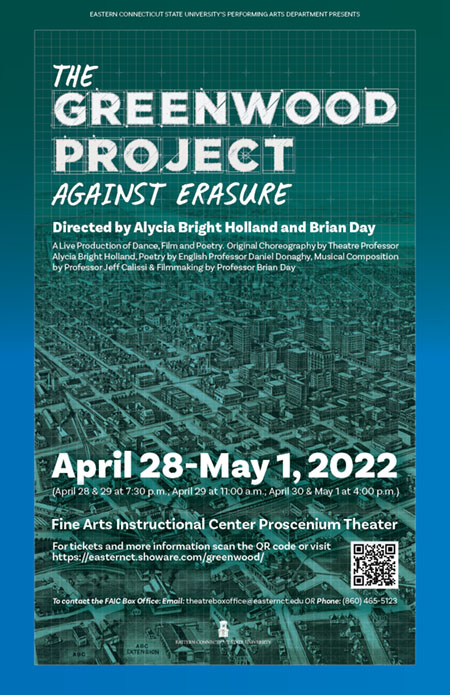 For its 4th Biennial Dance Concert, the Dance and World Performance area of Eastern's Performing Arts Department is proud to premiere an original collaboration,
The Greenwood Project: Against Erasure.
The Greenwood Project
spotlights the north Tulsa, Oklahoma neighborhood of Greenwood, to celebrate the achievements of African Americans there between the years 1907 and 1921, and to remember the catastrophic loss of life and cultural capital brought about by the 1921 Tulsa Race Massacre. To commemorate the Massacre's centennial, we offer the embodied words of survivors to help us remember this part of our history, in the form of an interdisciplinary artistic offering created to educate future generations. There can be no equity or social justice with respect to such historical trauma without acknowledgement and restoration of such events to the living memory of America.
The Greenwood Project: Against Erasure
is grounded in the mingled sensibilities of movement, sound and image, featuring student and faculty collaborations in Dance, Poetry and Film. More specifically, the Dance & World Performance area of the Theatre program premieres original choreography by Theatre Professor Alycia Bright Holland, set to poetry by English Professor Daniel Donaghy, musical composition by Professor Jeff Calissi and filmmaking by Professor Brian Day. Also featured are Senior Theatre students of the Dance & World Performance area, presenting original choreography, in creative dialogue with student Poets and Filmmakers.
The Greenwood Project: Against Erasure
will be presented in the Fine Arts Instructional Center's Proscenium Theater from
April 28 through May 1, 2022; April 28 & 29 at 7:30 p.m., April 29 at 11:00 a.m., and April 30 & May 1 at 4:00 p.m.
Tickets are free for Eastern students; $5 for other students and groups of 10 or more; $10 for senior citizens; $12 for Eastern faculty, staff, alumni and $20 for the general public.
Please be aware that ticket fees are not including in the ticket price. A $1.25 ticket fee will be applied to each ticket in your basket. Eastern Students reserve your tickets here
:
https://forms.gle/KY1ezsZyvvQ8T8Qx8
For more information about this production please visit:
https://www.easternct.edu/theatre/productions/greenwood-project.html
For reservations, phone the box office at (860) 465-5123 or email
theatreboxoffice@easternct.edu
.