Sweet Flag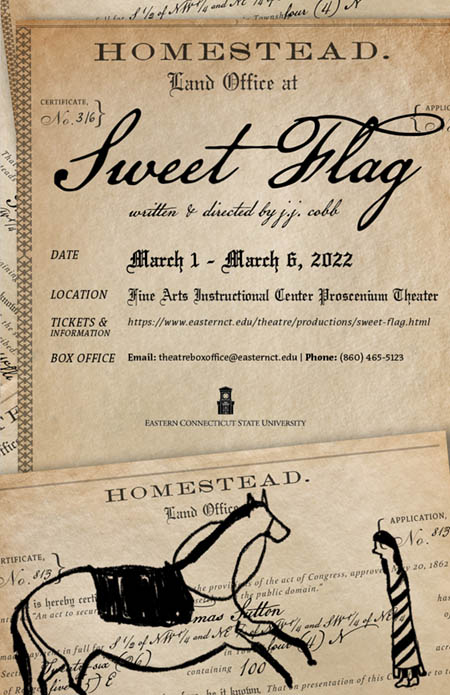 The Theatre Program at Eastern Connecticut State University is proud to present
Sweet Flag
, written and directed by J.J. Cobb.
The Nebraska Territory can be a hard place for women. The wind never seems to cease, and the expansiveness of the prairie can make a body feel bereft. Prudie Prentiss – the only available midwife for hundreds of miles – becomes the center of circle of women struggling to endure the realities of frontier life. When a wild girl's unexpected appearance causes friction, the settlers realize that their visions of freedom and self-reliance will be hard won. But at whose expense?
Director and playwright J.J. Cobb has been utilizing primary source documentation research to build Site Theatre experiences for the last two decades. Site methodology is based upon the concept that theatre cannot only adapt to the constraints of a particular site—as with Environmental Theatre—but can be written to illuminate how that location influences events.
Il Ristorante
(Site-Responsive; Ohio),
Echoes: Voices From The Church Farm
(Site-Specific; Connecticut),
The Tower Caveat
(Site-Specific; California),
The Melting Point
(Site-Specific; Hawaii), and
Cantilever
(Site-Responsive; Connecticut) were precursors to the
Sweet Flag
script. Immersive techniques of soundscape, light, and scent are used to transport audience members to a location that they may never before have visited.
Sweet Flag
features music written by famed Haudenosaunee composer, Dennis Yerry.
Sweet Flag will be presented in the Fine Arts Instructional Center's Proscenium Theater from March 1 through March 6, 2022; March 1, 2, 4 & 5 at 7:30 p.m., March 3 at 5:30 p.m. and March 6 at 4:00 p.m.
Tickets are free for Eastern students; $5 for other students and groups of 10 or more; $10 for senior citizens; $12 for Eastern faculty, staff, alumni and $20 for the general public.
Please be aware that ticket fees are not including in the ticket price. A $1.25 ticket fee will be applied to each ticket in your basket. Eastern Students reserve your tickets here
:
https://forms.gle/6x99oXmi4riQ4xVeA
For more information about this production please visit: https://www.easternct.edu/theatre/productions/sweet-flag.html
For reservations, phone the box office at (860) 465-5123 or email theatreboxoffice@easternct.edu.