BLACK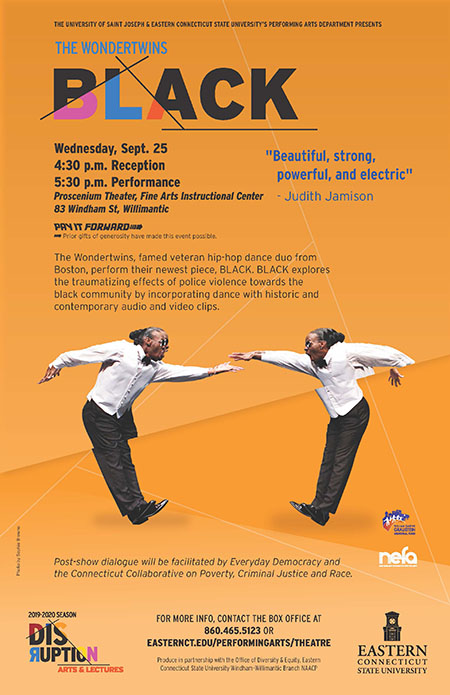 Eastern Connecticut State University's Performing Arts Department in collaboration with the University of Saint Joseph, Autorino Center for the Arts is proud to present an extraordinary evening of art and activism with the performance BLACK. The performance will be held on Wednesday, September 25, kicking off with a reception at 4:30 pm in Eastern's Fine Arts Instructional Center Lobby followed by the performance at 5:30 pm in the Proscenium Theater.

BLACK is the newest piece from Boston area hip-hop dance duo, The Wondertwins, Billy and Bobby McClain. The identical twins who grew up in Massachusetts started their dance careers performing for family members at the tender age of 6-years old and have been performing ever since. By age 10, they were asked to join Boston's first professional street dance crew, The Funk Affects. During their seven years with the dance company, they opened for some of the most well-known names in hip-hop, like KRS One, Run DMC and LL Cool J.

After parting ways with The Funk Affects, the McClain brothers branched out to form the "Wondertwins." Since then, they have toured the globe, showcasing their distinctive style. The former Alvin Ailey Theatre executive director, Judith Jamison, has described their approach to dance as "absolutely beautiful, strong, powerful, and electric…made for Broadway."

BLACK explores the traumatizing effects of police violence towards the black community by incorporating dance with historical and contemporary audio and video clips. A post-show dialogue, facilitated by Everyday Democracy and the Connecticut Collaborative on Poverty, Criminal Justice, and Race, will follow the performance. This performance is made possible in partnership with the University Of Saint Joseph, Autorino Center For The Arts, Eastern's Office of Diversity & Equity and the Windham/Willimantic Branch of the NAACP.

CONTENT WARNING: Graphic imagery and strong language.