Africa to America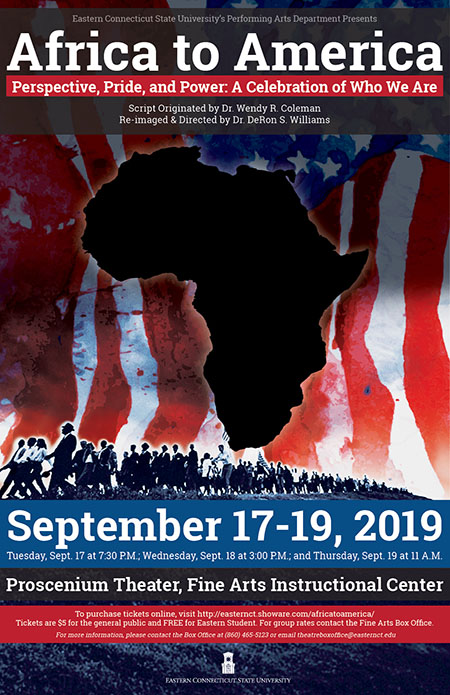 After two packed performances this past spring, Eastern Connecticut State University's Performing Arts Department presents the encore production of Africa to America: A Celebration of Who We Are written by Wendy R. Coleman. Re-imaged and directed by DeRon S. Williams, Assistant Professor of Directing, Africa to America is a special presentation that will run in the Fine Arts Instruction Center's Proscenium Theater from September 17-19, 2019.

This interdisciplinary performance chronicles the involuntary voyage from Africa to the unknown lands of America through the use of oration, music, dance, and multimedia. This rich and powerful experience depicts the struggles, determination, and triumphs as seen through th
e eyes of many African ancestors and descendants. The audience will also learn of the long history, heritage, and legacy of African Americans from some of the most notable icons: Harriet Tubman, Malcolm X, Dr. Martin Luther King Jr., Angela Davis, Rosa Parks, and the first African American President and First Lady, Barack & Michelle Obama. Join us for the return of this audience favorite.
"I am very excited we decided to present an encore presentation," says director DeRon S. Williams. "This piece is very timely, particularly because August marked the 400th year of the first ship's arrival on the coast of Virginia carrying 20-enslaved Africans. Although our performance does not solely focus on slavery, I believe this production magnifies the NYTimes's work on the 1619 Project as well as emphasizes the perseverance and magic of African descendants."
Africa to America first premiered in 2004 at Albany State University (GA) and was directed as well as written by Wendy R. Coleman. Eastern's production of Africa to America is the very first production not directed by Coleman but by her mentee and longtime collaborator DeRon S. Williams.

Eastern Students: Please reserve your ticket here!
When selecting tickets, please choose a General Public seat. When you have placed the tickets in your cart, you will be able to select the correct pricing from a dropdown menu to the right of your seat number.