Thread City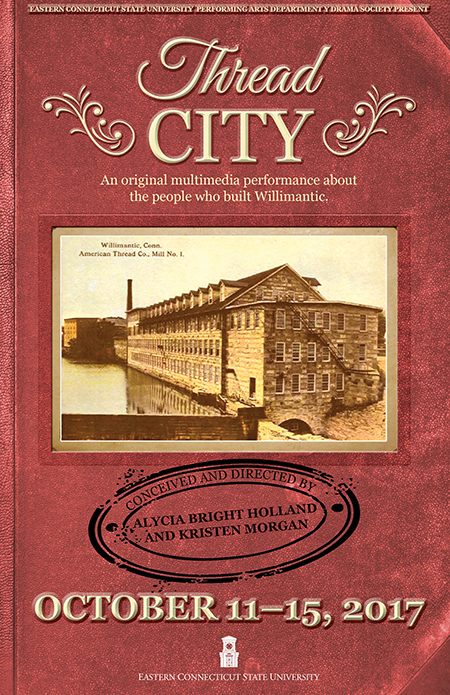 Thread City is a multimedia performance, co-devised at Eastern Connecticut State University by Professors Kristen Morgan and Alycia Bright Holland, in collaboration with students, residents of Windham, Connecticut, Eastern's Center for Community Engagement and Center for Connecticut Studies, the Windham Textile & History Museum, members of the Eastern faculty, and other contributors.

Interviews with community members and archival oral histories of Windham residents inspired the stories told in Thread City. The play's narrative was developed through two integrated Theatre courses in Spring of 2017; Experimental Theatre and Public Dialogue. The choreography and design of Thread City was developed in class and workshopped several times for public audiences. The creators hope that the community will feel empowered by seeing their personal narrative celebrated, and will develop a deeper connection with Eastern Connecticut State University.

Thread City will run from October 11-15, 2017 in the Proscenium Theater in Eastern's Fine Arts Instructional Center, Wednesday, Friday, and Saturday at 7:30 P.M.; Thursday at 5:30 P.M.; Friday matinee at 11 A.M. and a Sunday matinee at 4 P.M.

For more information, please email: theatreboxoffice@easternct.edu or call the Box Office: (860) 465-5123.

When selecting tickets, please choose a General Public seat. When you have placed the tickets in your cart, you will be able to select the correct pricing from a dropdown menu to the right of your seat number.